There were a lot of amused comments from readers on my blog post 10 Unfortunate Orchid Names, so I decided that a second edition was in order. Orchids have all sorts of crazy names and so many of them take my mind straight back to the gutter…I just can't help it! For your perverse pleasure, here is a list of 20 more unfortunate orchid names…
1. The word 'orchid' itself comes from the Greek word 'orchis', which means testicle. If you take a look at the roots on the genus Orchis, it's crystal clear where the name came from:
2. Bulbophyllum vaginatum
3. Paphiopedilum supersuk
5. Phalaenopsis Super Stupid — clearly, someone was having a bad day when they named this one.
6. Cymbidium Nip – the photo below is a hybrid called Strathdon 'Cooksbridge Fantasy', a cross of Cymbidium Nip x Cymbidium Kurun.
7. Masdevallia hymenantha
8. Masdevallia coccinea
9. Paraphalaenopsis laycockii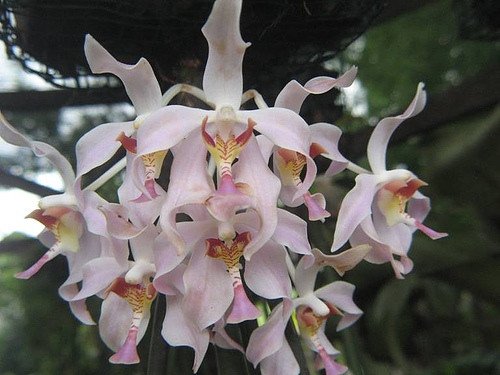 And a few unfortunate orchid names brought to my attention from commenter Bill of Species Specific:
10. Acianthus fornicatus
11. Anacamptis × lesbiensis
12. Angraecum erectum
13. Angraecum superbum
14. Coelogyne cumingii
I couldn't find images for a few unfortunate orchid hybrid names that I saw in back issues of Orchids Magazine, but I just have to share them anyway:
15. Doritaenopsis Bavarian Surprise (sounds like something you'd see at a German sex show)
16. Doritaenopsis Struber Herz Ass (um…what?)
17. Phalaenopsis petit bois ("petis bois" means "little wood" in French)
18. Cymbidium putana ("putana" means "prostitute" in Italian)
19. Miltonidium cojones ("cojones" means "balls" in Spanish)
20. Paphiopedilum flasher (do I even need to explain this one?)

Do you know of any more unfortunate orchid names? If so, let me know in the comments and I'll credit you in the inevitable next edition!